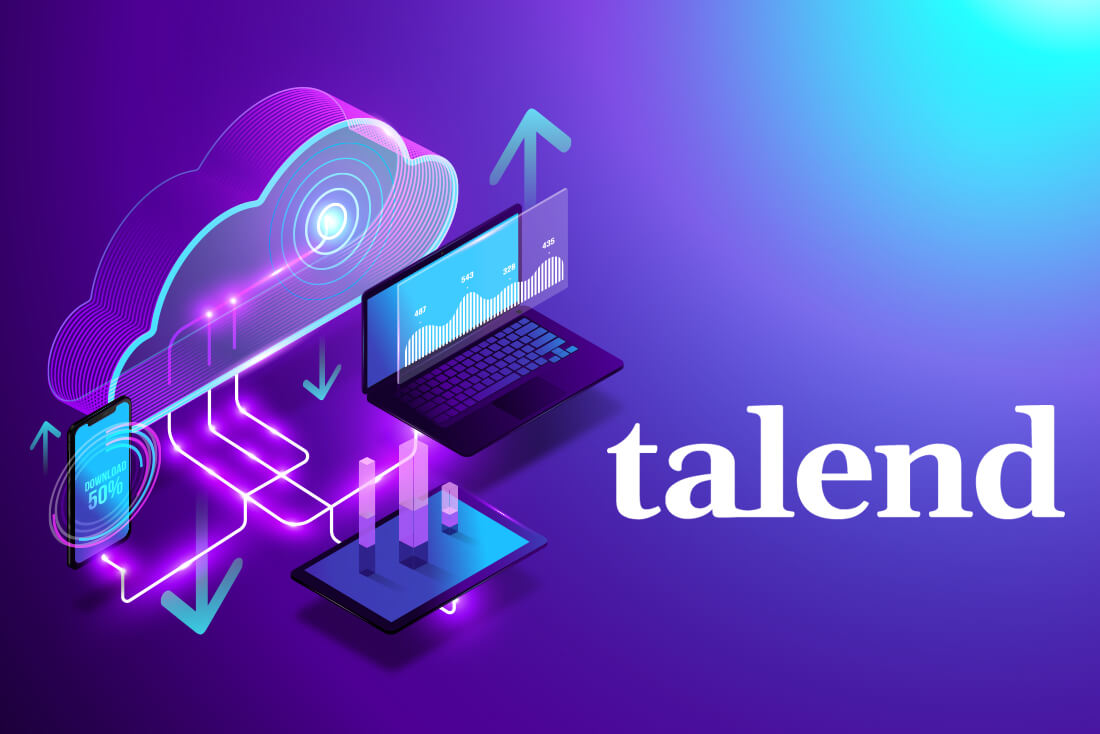 Enhancing Efficiency of Big Data Projects with Talend
July 22, 2022
By Jimmi Johnson
The core of the modern world is big data analytics and cloud platforms. The decision-making processes and routine operations of organisations are dependent on the data that is stored in different of data storage systems, locations, and formats. Organisations are committed to obtain crucial information from the data. The data often goes through several transformations, such as data merging, data cleaning, and tidying, before being transformed into useful business information.
And that's where the next generation leader in the cloud and Big Data integration software, Talend, steps in. Talend has revolutionised how businesses around the world make decisions today. It is an open-source software integration platform that can help organisations quickly transform the data into business insights. It offers an organisation data integration and data management solutions that can be used to harness the business information. The products offered by Talend are organised in a single unified platform which helps address all integration-related issues from the technical to the business layers. For executing data manipulation and extraction operations on big data, Talend is a very versatile, scalable, and performance-driven open-source solution.
Talend is an ETL (Extract, Transform, and Load) solution that allows you to easily manage the steps involved in the ETL process. It includes a variety of products, including big data, data preparation, data management, and application integration. Talend has all the plugins necessary to effectively integrate with big data, and hence this tool is specialized in big data. Using the graphical tools available in Talend, an organisation can automate big data integration with ease. This enables the organisation to create an environment where you can easily work with NoSQL databases, Apache Hadoop, and Spark for tasks that are carried out in the cloud or on-premises.
Talend Open Studio is an open-source platform for big data, data integration, data profiling, and more. Talend Open Studio is a GUI environment which can help you process your data very easily on a big data environment. There are several big data components available in Talend Open Studio that you can use to develop and run Hadoop tasks. The mapping between the source and the target device can be accomplished by using the various components available in Talend Open Studio's user interface. You can drag and drop the desired component from the pallete. Also, you can make transformations on the data columns using the extensive pre-built formulae and components. This tool is used to integrate Operating systems, ETL, Data Warehousing, Business Intelligence, and Data Migration. Since Talend Open Studio is built on Eclipse, a code is generated based on the user's selection which can be re-used in the external environment supporting Java.
Talend Open Studio is divided into three main features:
Repository: It is the collection of technical components used in a job. Metadata of databases, table schemas and structure can be created and stored. It is situated on the screen's left side.
Design Workspace: There are two tabs available in this workspace – Designer and Code. In the Designer tab, the jobs can be designed and modelled with, and this tab shows the work graphically. The code tab detects the possible errors and reads the generated code.
Component-pallete: It contains the various components required to build a job. The component palette is used as a preconfigured connector to perform the specific data integration operation. Also, it can reduce the amount of hand-coding needed to work on multiple data.
Talend for Big Data provides many connectors to integrate with sources such as server, database, and so on. helps you complete integration jobs ten times faster than hand coding. This drastically reduces the time needed for integration development from weeks or months to days or even hours. Talend develops native code that may operate instantly inside a cloud, in a serverless manner, or on a big data platform without the need to install and maintain software on each cluster and node. This reduces overhead expenses. Being open source and built on open standards, Talend adopts the most recent developments in the cloud and big data ecosystems. Also, being an open-source software, it has a huge community where you can share your experience, queries, and information.
Organisations receive large volumes of data every day through various sources. The future of an organisation depends on its ability to manage the data. With the aid of Talend, organisations can improve their data processing ability. Talend assists your business in using big data to stay ahead of the data curve and provides more granular insights into business operations, customer behaviours, or industry trends.
Address Info
Get in touch!
We'd love to hear from you, be sure we will reply
3rd Floor, Sahya Building,
Cyberpark, Kozhikode-16,
Kerala, India
1st floor, CD Tower Building,
Arayidathupalam,Kozhikode-04,
Kerala,India